TECOS TE183A guard patrol system


TE183A patrol card machine uses a revolutionary new technology, is suitable for factories, enterprises, public security systems, airports, museums and other security strict places for guard security patrol requirements on the management, also widely used in patrol inspection system, but has also applied to attendance management, vehicle counting management, animal identification management, parts management and other management systems. System form: patrol host / device, communication cable, patrol dot, patrol management system software.
TE183A performance:
Battery life: 3.6 volt lithium battery for more than 2 years, card reader: 550,000 times. Read range : 4 ~ 6 cm, non-contact induction type reading card technology. High-speed communications: 30 pieces of Patrol records per second. lightweight, non-slip antifreeze : very convenient to carry and use it. Large capacity, safe and reliable: use an advanced Flash memory technology, without losing data, you can permanently save more than 30,000 records repeatedly.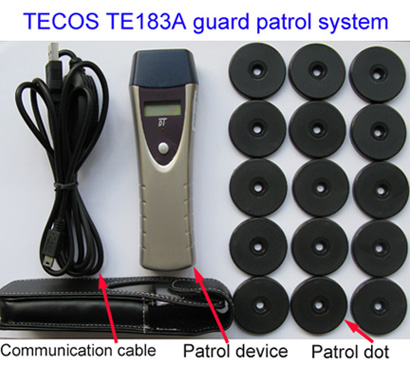 Patrol device: TE183A
Size: 148 × 40 × 20mm. Weight: 200g. Operating Temperature: -40 ~ +90 ℃.
Function: Induction type. its data storage has 30,100 pieces of patrol records, each is including informations of check plan, patrol personnel, time and patrol place, events. The data can pass a communication line transmission to your computer to save it. Alloy shell, waterproof, light weight, easy to carry. Liquid crystal display (LCD) display time, free to set its patrol number, the device is closer to the Patrol dot to read patrol information. The impact of dust, rain, snow, ice and other environments don't affect its work.
Patrol dot:
ID Patrol dot is an engineering plastics packaging memory chip, has waterproof, shockproof and firm function, and built-in ID code that can not be modified. It can be installed in any hidden place. It is as the function of a guard patrol point to record a security person's patrol step.
Communication cable / line: Through RS232 serial port to connect to a computer as data communication transmission way.
PATROL SOFTWARE Model No.:TE183B
Support all computer systems or upper system platforms, based on the actual situation of enterprises, as planned, person, location, route & other settings, Via inquiring queries & statistical analysis, it can reach the inspection supervision & examination purpose to the guarders. It can provide patrol data management and a detailed inspection report, also strengthen the guard system management.

Technical standards:
1. Conform to EN60950-1:2006+A11:2009 product safety international standard. Conform to EN55011:2009 and EN61326-1:2006 product safety international security standards. Conform to EN 61000-3-2:2006+A2:2009 and EN 61000-3-3:2008 international security standards. 2. Conform to EN61000-6-1:2007 product immunity international standard. Conform to FAA testing standards